From Gamer to Earner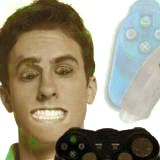 Get a real job!


It's 10 p.m. on a school night. Pulling one padded headphone off your ear, your mom shakes you and yells, "Get your nose out of that video game or you'll never be able to find a real job!"
She doesn't realize it, but gaming actually could get you a job.
Hey, Mom!
The video game industry offers real jobs! In fact, it is a major segment of the entertainment industry. It may be the fastest growing industry, period.
According to DFC Intelligence, a market research firm, globally, consumers spent $67 billion on video games including console games, PC games, online games, and mobile games in 2012. They expect spending to increase to $82 billion in 2017. Mobile games for smartphones and tablets are growing faster than any other gaming sector.
Put in percentages, DFC predicts that spending on games will grow at an annual rate of 4.4% during the next five years.
Consumers demand ever increasing sophistication in story, graphics, and animation. If you think this means high-paying jobs, you're right. As you can imagine, competition is extreme for jobs in the gaming field...
Tweet
Premier Members Credit Union
What makes credit unions so great? Members like you.

Every dollar you invest in your credit union earns you money while other members borrow it.

When you're ready for a loan, other members' savings will be there to help you out at the lowest possible cost.