Be a Dream Achiever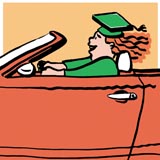 Graduation...not so far away!
Think about it...your high school graduation day. It's really not so far away!
What's your future look like? Do you plan on attending college? Do you dream of owning a car?
Put yourself in the driver's seat
Most teenagers have big dreams. You'd like to be able to get what you want without having to ask your folks to pay for at—at least not all of it!
So move out of that dream and into reality! Be a dream achiever. Get in the driver's seat of your future...starting today!
How? By saving your money.
Think: $1.67 a day!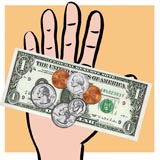 Take your own lunch to school.
If you're 12 years old, and you save $50 every month until you're 18, you'll have more than $3,600.
You're probably thinking, "I can't save that!"
Oh yes you can! Think about it in smaller amounts.
Fifty dollars a month is about $12.50 a week, or $1.67 a day. If you're having any trouble thinking about how you can save $1.67 a day, look to your left!
$3,600 is a good start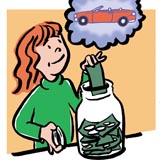 At the end of every day, drop all your spare quarters in a special container.
If a car's in your dream, for example, it's possible to find a good used car for that much or even less.
But what if you want something more? Like a fuel efficient car with good mechanics, no rust, and low mileage? Or tuition for your first year in college?
It will cost more than $3,600, so how do you get more money?
One thing you can do is save some of your birthday and holiday money.
You can also do odd jobs for your family on weekends and during your summer vacation.
In a few years, you can get a part-time job that will allow you to double or triple your monthly savings.
Here's how to reach your savings goal:
Keep your eye on your goal. Find a picture to illustrate your dream and put it where you'll see it every day to help keep you motivated.
Trick yourself into saving. Some people save a certain coin. They'll save all their nickels, dimes, or quarters. Or even all change. Coins add up quickly.
Control your impulse spending. When tempted to spend the money in your pocket ask yourself how important that purchase is compared to your dream. An arcade video game can eat dollars in a hurry.
Leave your money at home. Carry only the cash you'll need for the day so you won't have it to spend here, there, and everywhere. Put the "out of sight, out of mind" theory to work for your benefit.Watch how your money can grow.
With a little determination, persistence, and some patience, you will be living your dream some day. Start now!

True or False: Andrew Jackson's home, The Hermitage, is a part of the Trail of Tears National Historic Trail. Click Andrew's head for the answer.
TRUE: Jackson was the president who signed the horrific Indian Removal Act into law. The National Park Service displays Jackson's home as a site on the trail where many Cherokee died from being displaced.
Tweet