Get More For Your Tuition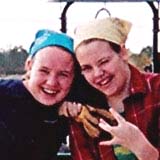 Model programs benefit freshmen.


You can help yourself
Megan has found that faculty members often invite students to contact them via e-mail or by an office visit. Use these opportunities. They open doors.
Professor Ault notes, "Visits in the office, lunch, bull sessions, working together on projects—all seem to have positive influence.
"Unfortunately," he adds, " in today's social climate, students must take the initiative for out-of-class contact.... the students who are willing to take the risk of dealing with us outside of the classroom are the ones who get the most out of their Creighton experience."
The University of Wisconsin at Milwaukee also has information on the freshman year experience.


Professor Ault says "the sooner they realize we are people ... the sooner they will be able to figure out what contributions we might be able to make in helping them meet their personal goals. "
There's another way you can make close faculty contact. Find a part-time job in an academic department that is of interest to you, particularly with department's office manager.
This has several advantages:
You have informal contact with both faculty and staff members;
You become part of an important network that exerts a lot of influence in the departments and divisions of the institution;
Office managers know personnel and procedures especially well;
Office managers can be reliable guides on how best to approach particular faculty members;
Office managers are walking data banks when it comes to faculty foibles.
Whether you are employed or not, get to know the staff. As Megan observes, "Older people generally know the system even better than seniors do!"
A Harvard professor agrees.


What to look out for
Treat faculty the way you treat others in positions of authority. Think twice about a close relationship with a particular faculty member who has a reputation for being a gossip, for using people, for being unfair, or for being dishonest.
Stay away from faculty members who seem to be unable to get along with colleagues, or who seem to be biased against one or more groups of people.
The benefits of having people in your life who take a special interest in your progress are well worth the effort. College staff that get to know you can provide encouragement, referrals, career information, and connections. Don't miss out!

True or False: Contrary to most people in colonial America, Benjamin Franklin was well-educated because he had gone to a university in England. Click Ben's head for the answer.
FALSE: Franklin was only in school until he was 10-years-old. While there he did very well in writing but poorly in arithmetic. The remainder of Franklin's education came from reading and debating with friends.
Tweet