After a successful day jousting, it's time to deposit your winnings at the credit union. But before that, use your trusty steed to pick up as much of your winnings as possible.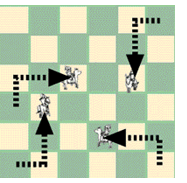 Like the knight in a game of chess, you can only move your horse in an 'L' shape: sideways, upside-down or even backwards. (The chart at left will help).
Land on a bill and pick it up. Once a space is empty, you canít step on it again. How many bills can you pick up before getting stuck?

Count off your first ĎLí shape and click on a square to make your first move.