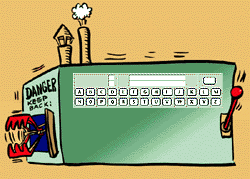 Your friend Conrad and his sister have been busy.
They've been working on a homework machine they call The Googol 2000. They thought that this would be a good place to save all their good homework and trash all their not-so-good work.
Unfortunately, during the testing phase, a copy of the Googolplex Glossary got too close to the machine, and it ... um ... ate it.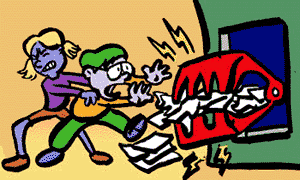 Now they need your help.
They've tried to get the list back, but The Googol 2000 will only show them one word at a time, and then it will only show them some of the letters. The rest of the word is just spaces.
Below you'll find the front of the machine, and you can help by trying to fill in the missing letters. (Remember: All the words in the machine are in the Googolplex Glossary.) You only get 6 wrong guesses before you have to move on.
Good luck!
If you get a blank instead of a word, click the Refresh or Reload button on your browser

Take me back to Googolplex