Owning a Car Means More than Monthly Payments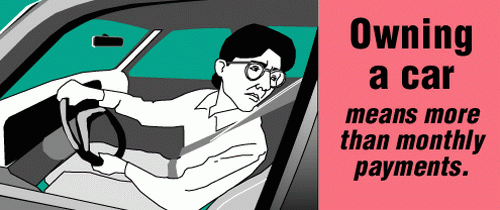 Part VI of a series about selecting and financing your first car
Ask 17 year old Lanna. She bought a clean, rust-free, one-owner car from her grandmother. The car was well maintained with 40,000 original miles. They agreed on a monthly payment of $100 for 18 months. Lanna was thrilled that her grandmother didn't charge her interest and felt she got a great deal.
Lanna learned later that insurance would cost $120 a month--which meant her car would cost $220 a month, not $100. She also didn't realize that she'd need $25 every week for gasoline to drive her car to work and school. Three months later, when the muffler fell off, it cost her $225 to replace it.
Lanna learned a tough lesson. Six months later, her "really cool car" sits in the driveway two weeks a month because she can't afford to drive it.
Learn from Lanna's story. Before buying a car, take 15 minutes to calculate the REAL cost of owning a vehicle. It's so much more than the monthly payment.
So you want to buy a car?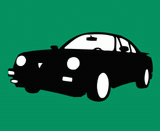 You have an idea of how much you can afford for the purchase price, but how much will you need to run the car? Owning a car can be very expensive. Before you start shopping, you need to think about the additional costs--the extra expenses that will break you if you don't consider them carefully before you buy. A car doesn't drive itself...it needs gas and oil to run, tires to roll on, a muffler to maintain peace in the neighborhood, and insurance--required if you're taking out a loan to buy it.
Of course there are other items, but let's take a look at these for now so you can figure out your basic ownership costs. Use this handy worksheet to add them up.
Ownership costs
1. Gas. Some large vehicles, especially trucks and vans, suck gas so quickly you can almost watch the fuel gauge move as you're going down the road. On the other hand, smaller cars cruise along for weeks on a tank of gas. The reality is, you can't control gasoline prices but you do have a choice in vehicle purchase. While the average fuel tank size is 15-18 gallons, the gas hogs usually take more than 20 gallons to fill, which translates to $35 to $50 for each fill-up.
Advice--Before you buy, figure out how much money you'll need over the next year for gas. It could make a difference in the type of car you buy. There's nothing more depressing than having a really great car sit in your driveway because you can't afford the gas.
2. Oil changes. It won't take long to change your oil--only about 30-45 minutes every three months-- but it will cost $20-$30. It's a little cheaper if you can do it yourself, but you better know how because the consequences can be serious.
Advice--Oil changes are one of the things you cannot afford not to pay for because skipping them will put you on the map to big time expense at an intersection down the road. Learn how to do it yourself and save enough for a full tank of gas.
3. General maintenance. If you're buying a used car with higher mileage, understand that some things may need attention. While cars are generally built to last more than 100,000 miles, parts do start wearing out and need replacement on most models after 50,000-60,000 miles. Think about frequently used and exposed parts: muffler, windshield wipers, brakes, tires, lights, etc. Maintaining a car isn't glamorous, but it's important if you want your car to last. Repairs can be costly and can cause stress and frustration, especially if you lack the money to fix the problem.
Advice--Do the research to check the durability of a car or truck you're interested in and get an idea of the expenses you may incur over the next couple of years. Consumer Reports magazine is a good resource, or check out Carfax or go online to Intellichoice to study ownership and repair costs.
4. Insurance. There are definite risks to driving without insurance and from a financial perspective, insurance makes sense. Some states require all drivers to obtain auto insurance. If you borrow from a financial institution, most require full coverage insurance as a condition of the loan. Also, many insurers charge teenagers double or triple premiums for auto insurance. This is because teenagers are new drivers and are a higher risk based on the percentage of those who are involved in accidents. Click here for three ways you can reduce your auto insurance premiums.
Advice--Before you buy, make a quick call to your insurance agent to find out the insurance premium cost and include it in your total monthly operating costs. You may be in for a shocking surprise, but, isn't it better to know before you buy? For more car-buying information, check out the "Paying for your Car" section of the Googolplex archive.
Part VI of a series about selecting and financing your first car

Related Stories:

True or False: Free Franklin Post Office resides in a jail cell once occupied by Franklin. Click Ben's head for the answer.
FALSE: In 1975 the United States Postal Service opened the B. Free Franklin Post Office and Museum in a Philadelphia house once owned by Franklin.
Tweet