Power to the Students!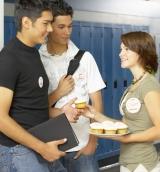 Make a difference!
Got a great idea for a student activity?Want to do something about it?
Enter the pool of nominees for a position on your school student council!
Being on student council won't make you emperor. But it will give you a chance to make a real difference.
Most junior high schools or middle schools have student councils, but a lot of students don't know exactly what they do.
You might think they just hand out cupcakes to drum up the vote, plan dances, and hold car washes.
But a good student council can do a whole lot more. It can:
Look out for student welfare
Have a voice in school decisions
Invite speakers
Raise money for charity
Organize volunteer activities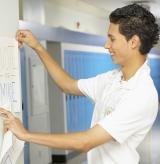 Vote for Mike!
How does it work?
A student council usually includes three or four elected students from each class or grade. These students are called representatives.
The election process works sort of like the U.S. Congress. Usually, students nominate other students they think would make good leaders.
Then, the school holds an election in which you and your classmates vote for these candidates. Those with the most votes become members of the student council.
The representatives choose officers from their group. Officers usually are president, vice president, secretary, and treasurer.
The entire group meets every week or two with an adviser and talks about things that affect the school.
Read on to learn what a student council does....
Tweet