In my previous article I told you about the benefits and joy of growing your own garden. Now it's time to make your own!
Make a cool shape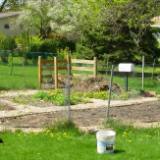 Plants love the sun.

First pick a plot of land with good exposure to the sun and good soil. Make sure that the spot you pick fits the size of garden you want.
You can also give your garden a cool shape. Just don't make it too crazy.
My garden is in a sort of "L" shape; however, you can make it whatever shape you want.
After you pick your spot, dig it up, but not before you have your parent's permission.
Once you get permission, grab your trusty shovel and go to work.
You only need to dig down about three inches into the soil, just enough to get the grass and weeds out of the ground.
Join a community garden
What if you don't have your own land for a garden?
If you don't have your own land, or your land isn't good for a garden, look into joining a community garden. If you don't have one, see if you can start your own!
My class went on a field trip to a community garden near us, and we had a blast. You can see all kinds of people with different styles and different tastes, coming together in one area.
Community gardens work great, and you get to meet lots of new people.
Once the last risk of frost is gone, and you're pretty sure that it's springtime, it's...