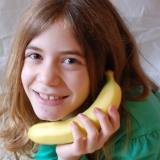 Ask Anna!

Hello and welcome to Ask Anna About Eats!
It's the only place where kids can ask me about food and get yummy recipes for the whole the family to enjoy.
I'm addicted to chocolate
Dear Anna,
Help, I'm addicted to chocolate. What should I do?
Sally, from New York
Dear Sally,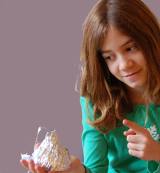 If you can't stop, keep it out of reach.


You'll also be happy to know that there are some good kinds of chocolate in the world, like dark chocolate!
Dark chocolate has things called cocoa phenols, which make the tasty treat an antioxidant.
White chocolate and milk chocolate don't have the same effects. A great idea is to melt dark chocolate and dip fresh fruit in it. It tastes delicious!
You don't have to cut out chocolate, just cut back.
Schedule reasonable times
to eat chocolate.
If you can't stop, no matter what, try and keep it out of reach. Better yet, keep it out of the house!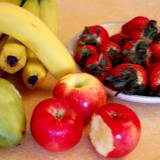 You'll love fruit when you try this Fantastic Fruit Dip.


I hate fruit!
Dear Anna,
I hate fruit. Is there any way I can learn to like it?
John, from Wisconsin
Well, John, do you know that you can get the same vitamins in veggies that you can get in fruit?
For example, the vegetables that are high in Vitamin C include broccoli, spinach, green peppers, sweet red peppers and tomatoes.
You can also do fun things with fruit so you can learn to like them. Check out the tasty recipes I've sprinkled throughout this article for a fantastic fruit dip, a delicious fruit smoothie, and muffins.
Keep reading for more recipes...