How does the Moon go through phases?


The sky has many wonders that change from night to night.
Look up! You might see:
The Moon,
Star patterns,
Shooting stars.
Want to know more about these beautiful night-sights?
Moon swings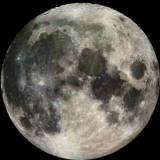 What's the Moon phase tonight?


The Moon cycles through changes (called phases).
It seems to get bigger until it is a full circle.
Then it gets smaller until you can't see it at all!
If you have a pair of binoculars, use them to get a better look at the Moon. You can see craters and mountains.
The craters really stand out along the line between the sunlit part and the dark part.
Pictures in the sky
Asterisms are easily recognizable patterns of stars.
People think that some asterisms make pictures. Ancient people named these shapes and made up stories about them. We call them constellations.
To find star patterns in the night sky, go outside about an hour after the Sun sets.
Follow the drinking gourd.


It may take up to half an hour for your eyes to get used to the dark.
Keep reading to learn about just a few constellations and asterisms...