C-Note wants YOU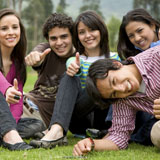 NAME: C-Note wants YOU
ABOUT ME: C-Note is an online magazine for student money makers. We're looking for a blogger who's eager to relate with readers about the life and consumer issues a typical high school student faces every day.


C-Note is Hiring!
May 23rd, 2013 at 7:32 pm
Got opinions? Want an audience? Can you relate to your peers?
We're taking applications for new bloggers.
If you're selected as one of the C-Note bloggers, we'll pay you for the privilege of promoting your ideas every week for a whole year, starting August 1!
For this blogging position, you must be in high school (ninth through 12th grade) in the fall of 2013 or, if homeschooled, of high school age.
As the blogger, you'll get to create your own title for your series of posts. You can see the titles we're using now, "Mindful Living," "Our World," and "College Planning" on this page. Scroll down to the bottom of the display and click on the archive links to see previous titles.
Your job duties consist of one blog post a week. We creatively accommodate vacations and times of school overload, of course!
And you receive a check for $100 every four weeks.
It's a fantastic opportunity to showcase and develop your writing skills and be a part of the blogging community—while getting paid. Sound like a fun way to earn 100 bucks every four weeks?
Visit our current bloggers to learn a little about them, and visualize yourself in a similar role—but with your own style and about the topics you love the most!
Still interested? Send your request for the application and job description to Laurel Purves, C-Note college intern:
Request your applications now. Completed applications are due June 28, 2013.
We take your privacy seriously on C-Note and do not display your last name or sell your information to third parties. You'll never have to worry about spam from us filling up your inbox!
ADD TO MY FAVORITES
E-MAIL THIS BLOG
PRINT THIS BLOG