The lunacy of lotteries
When state lottery jackpots grow to multi-million dollar levels, people go nuts. Lines form, and dollars flow to buy the winning ticket. Yes someone, or a group of "someones", wins, but millions lose. Lotteries typically pay back 50 cents for every dollar bet, which isn't even a good gaming industry return. If you buy 50 tickets a month, you'll spend $600 a year. You could win, but again the odds of hitting a jackpot are heavily against you.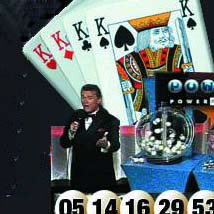 Sure it's enticing to spend a dollar or two a week on the promise of big bucks. But let's do the math, as tabulated by Motley Fool, for lottery player John. Based on the odds, John will lose half of his $50 the first month, leaving him with $25. The next month, out goes another $50 in ticket purchases and again half the loss leaves him with a total of $37.50. After 40 years of this routine, John will have paid $245,000 to support the lottery. He'll likely end up with just $50...enough to treat a few friends at the local pizzeria.
Consider a better return. If you invest $600 a year in the stock market for 40 years and realize the market's average annual growth return of 11%*, you'll amass more than $387,000! That's a lot of pizza!
*Stock market returns are based on past performance and while they're not guaranteed, the odds are definitely more in your favor.
Return to where you left off in "Gambling...it's everywhere."

True or False: Franklin wanted to be remembered as "First Postmaster General of the American Colonies." Click Ben's head for the answer.
FALSE: Franklin chose for his own epitaph to be remembered simply as "Benjamin Franklin, Printer"
Tweet