Sports Injuries: The Road to Recovery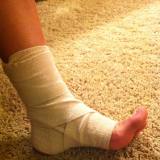 Hi, I'm Anna's ankle!
Pulled muscle
You can pull any muscle in the body and, since we have more than 600, it isn't that hard to do.
The area you pulled will usually swell up and you will feel pain.
The best thing to do is to ice the muscle as much as possible during the first couple of days. Twenty minutes with ice on and twenty minutes off is the best way to heal.
As soon as tolerable, start gradually stretching the muscle gently and carefully. The time it takes to recover varies on what muscle you pulled, and how bad the pull is.
Shin splints
Finding the right shoe can help prevent shin splints.
Shin splints are severe shin pains. They are usually caused by running or jumping and landing on hard surfaces. The best way to try to prevent this injury is to have an arch support in your shoe to support the foot.
Treat shin splints with alternating ice and heat, and wear supporting shoes. It helps a lot if you strengthen and stretch the muscle that is part of the shin, called the anterior tibialis.
To stay active while recovering from shin splints, try nonimpact sports like swimming.
With a little bit of time and work you can be back in fighting shape!
Back in action
After my foot injury, I followed my doctor's orders and rested. Soon I went back to dance. I was really sore at first, and it took awhile for me to catch up to all my friends. Eventually, I was back in shape.
After an injury you can't just expect to go right back into the sport and expect things to be just like they were. You have to work to get back to your normal self.
In terms of sport's injuries, what's RICE?
Research Institute for Children and Education
Rest Ice Compress Elevate
Royal Institute of Chemistry
Roaring in the Car's Engine
Some of the best athletes aren't the ones that just "play through" the injuries. They're the ones who take time to recover, because they know that healing correctly can only make them better.
And remember most of all, these are just guidelines. The most important thing, if you get injured, is to see a doctor and follow doctor's orders.

True or False: Andrew Jackson was the first president to increase the national debt. Click Andrew's head for the answer.
FALSE: Jackson is the only president to ever pay off the national debt. Today the national debt is more than ten trillion dollars.
Tweet