Internship: How to Get One
How Do You Get the Job?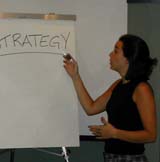 "I asked to be invited to meetings and involved in projects."
—Jill


The first step in getting any job is deciding what you want to get out of it. An employer will be much more impressed with you if you know what kind of experience you're looking for.
Do some research about the field and the company you're interested in. Take a look at the company's Web site and look for articles in the news about the company.
This will help you define your goals for the internship and speak knowledgeably during your interview—if you get one.
It's important to develop your résumé to reflect the skills and qualifications that make you a good candidate.
I go over my résumé every time I apply for a new job and update and rearrange it based on what kind of job I'm trying to get.
Nail That Interview!

The interview can make you nervous. If you have a successful interview it may win you the job or, if not, you're still stuck looking.
Rachel, Mark, and Amanda tell how they found internships.


Here are some tips that will help you during the interview process:
Be confident. Being prepared will help you come off cool, collected, and confident in the interview. Have questions to ask, wear professional attire, and practice answering questions with a friend.
Be on time. Make sure to arrive early and plan time for parking, finding your way to the office, and any other thing that may pop up. Getting there early shows you are organized and committed.
End on a good note. When you leave, thank your interviewers for their time and shake their hands. Also, remember to send thank you notes to your interviewers.
Interviews are key. They are a good way to find out more about how to prepare and ace the hard hitting questions.
Read the second part in this series on internships to find out how to make the most of your internship.

True or False: Benjamin Franklin was an avid long-distance swimmer. Click Ben's head for the answer.
TRUE: Though it was a time when not many people swam, Franklin was a seasoned swimmer as a young man. He even invented the first swim fin.
Tweet