Birthday Tycoon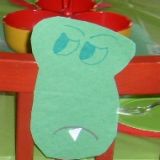 Alligator cut-outs on the chairs...
Planning with customers
The first thing to do with clients is schedule a meeting. I usually go to the client's house with my mom or dad. This way I can see where the party will be.
If the client wants me to plan decorations, I need to know how big the space is and what parts of the house or backyard I can use.
I take my party menu—a list of my services—with me and explain it. Clients can then choose the services they want.
Next, I ask what kind of theme they have in mind. Sometimes I have to give them suggestions.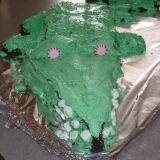 ...and an alligator cake!
Knowing the theme will help decide the decorations and invitations. The theme can also help you come up with games and crafts.
If I am helping host the party, I always bring along my "emergency kit." My kit includes extra favors in case a guest who hasn't sent an RSVP shows up.
Last, I always bring a camera and extra batteries.
It always seems to happen that the camera can't be found or the batteries die. This quick thinking on my part has saved the day many times.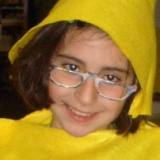 Be the star of your show!
Think quick!
Which of these services does Chloe provide?
Selecting party guests
Driving guests home
Planning games & crafts
Horseback riding lessons
No matter how much planning I do, things still go wrong.
For example, at a 7-year-old's birthday party, we finished games, crafts, cake, and opening presents about 25 minutes before the party was scheduled to end.
I told the mom not to worry. It was a "Star Wars" party!
I quickly wrote down the names of several "Star Wars" characters on slips of paper.
The boys had a ball playing "Star Wars" Charades until their parents arrived.
Why I Love This Job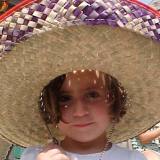 Fiesta!
I love throwing parties. I learn time management and I get to be creative!
I learn something new at every party. For example, some activities take more time than I expected. That means I have had to change how much I charge.
Hopefully my business continues to grow with more and more clients.
With a strong client base this will be a great way for me to save money for college!

True or False: Andrew Jackson was a strict vegetarian. Click Andrew's head for the answer.
FALSE: Jackson loved to eat meat. His favorite foods were wild turkey, partridge, venison, cheese, blackberries, and milk.
Tweet