Search Cyberspace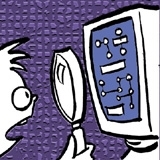 Focus your search with special word commands and symbols.
Your teacher did the unthinkable...gave you an Internet research paper the first week of school!
Worst of all, it's on the history of bobsledding and its Olympic origins! I know what you may be thinking, "Where to look? The Internet? It's huge! Where do I begin?"
Searching the Internet is like solving a huge jigsaw puzzle—there are so many websites out there!
It's not enough to get the right combination of words when searching for specific information. You still have to find accurate information.
Here are tips to help you find what you need, fast and easy.
Be specific
Determine exactly what it is you are looking for. The more specific you make your search, the better luck you will have.
When your teacher assigns you a topic, write it down so you can be accurate when you start searching.


Check out this list of search engines.
Use good tools
Pick a few search engines. A search engine is an online tool used for searching a lot of websites. You type in a word or phrase, and the search engine finds all the websites in its database (collection of information) that use that word.
Not every search engine has the same database of sites so it is always good to use at least two search engines to make sure you get plenty of information.
If you're looking for a general search you may want to use a website like Yahoo, Google, or Bing to find information available on your topic.
Pick your words
Got questions? Ask!
Now that you have picked a few search engines that you like, make sure that you are using the right words, phrases and symbols in your search to get the best results.
First: List specific words related to your topic. A long phrase like, "how bobsledding started and how it became an Olympic sport," will turn up hundreds of websites. Pick a few words that get to the point: bobsledding, Olympics, and origin.

Next: learn the language of the Web. Most search engines recognize the computer language called Boolean.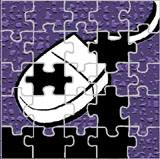 A mouse is eating my puzzle!Use Boolean to let your computer know exactly what information you want.
For example: the two most important words in your search are bobsledding and Olympics. Try typing in bobsledding + Olympics. Your search engine will show you a long list of sites explaining the sport and its Olympic origins.
In Boolean, you can also use the minus sign (-) to say not. The slash (/) means or. Combine Boolean commands any way you want, the search engine understands what you mean!
There are Boolean words as well...
Tweet