Plugged-In Bills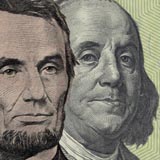 These guys need a facelift!

Look at all the technology around you: MP3 players, cell phones, iPods, hand-held video game players, e-book readers...

Well, our old money is getting plugged into the 21st century, too. Just take a look at the new bills that picture Presidents Lincoln, Hamilton, Jackson, and Grant!

These guys needed a facelift! Lincoln was born Feb. 12, 1809. He's been appearing on $5 bills since 1929.

The new $100 bills were set to come out in early 2011 but due to some printing problems the federal reserve has delayed the release date indefinitely. Benjamin Franklin will be on the front. Franklin was born Jan. 6, 1706 and has been pictured on every single one of our largest bills Largest bill!

The first time Ben Franklin appeared on the $100 bill was in 1914.

Today, the $100 bill is the largest denomination (the largest dollar amount) available in U.S. currency.

Close

since 1928. No wonder they aren't smiling!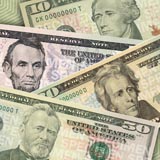 The new bills are colorful.
Talking tekkie on the five
Technology—not just art and beauty—was behind the redesign of the new bills' special new looks.
How special? Special enough to hopefully fight counterfeiting, the government hopes. Counterfeiters get more sophisticated and resourceful all the time.
Their hope is to make dollar bills that look real and use them without getting caught.
It's the U.S. Treasury's job to outthink and outperform them...
Tweet