If you choose private
Private lessons in my city last forty-five minutes. Something great about private lessons is that you learn
different strokes
every year. Some private teachers give you a special sticker or recognition each year you participate.
If you choose group
A group lesson at the Y or fitness center in my town lasts thirty minutes. In group lessons, you can make friends while you learn together.
The YMCA also has "open swim." This allows members to swim for two hours a night during the week and seven hours a day on the weekends.
If you teach yourself
The cheapest way to learn how to swim is to teach yourself in a public pool. In my city, an adult can go to a public pool and pay $1.50 to swim all day. Public pools usually charge kids much less than adults.
And the winner is…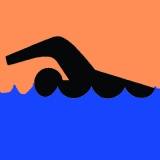 You might save someone's life some day.


You, no matter how you learn to swim. If you accidentally fall into a lake, river, or swimming pool, you can get yourself out.
And you can save a life, if someone who can't swim falls into the water.
Finally, swimming is a good form of exercise for all ages. It can help you stay in good health your whole life.
Whatever lessons you choose for learning how to swim, you'll have a great time. You'll meet new people, and become healthier.

True or False: Lincoln believed the Declaration of Independence was for European immigrants.
Click Abe's head for the answer.
FALSE: Lincoln believed the Declaration of Independence was written for African slaves as well as European immigrants.