Comics Make a Good Living
Love comics? Want to create them for a living? Great! A lot of students would give just about anything to have a career writing and illustrating comics for books, newspapers magazines, and the Web.
That means the competition for jobs is fierce. If you want it, make sure you have the talent!
Work for a big firm
If a major publisher offers to hire you, it will be hard to turn down. Four big firms in the print comic industry are:
Marvel, in New York
DC, in New York
Dark Horse, in Portland, Ore.
Image, in Berkeley, Calif.
Marvel and DC are the biggest. Most people these firms hire are editors. A beginning editor at either of them can expect to make $25,000 a year. If you chose to work for one of these big companies, you will have to live where they are.
By the way, all four of these firms have committed to going digital, meaning they intend to release comics for digital download on the same day they ship the physical comics retailers.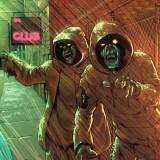 Want to see a larger image of Night Club?


However, there are also small firms in the comic industry.
Send Your Story to Paramount!
If a movie production company such as Paramount wants your comic book title (your story) such as Invincible, here's what happens:
The company pays you option money. Option money means that, in exchange for a fee (in the thousands of dollars), the company has the right to develop your title for a certain length of time.
If, at the end of that time, the company decides to renew its option, it pays more option money.
If the production company actually goes ahead and makes the movie, it pays a production advance, which can be sizeable.
That's your money!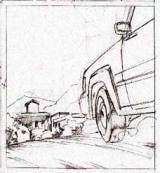 Want to see Detonator in progress?


Try freelancing
In comics, you can make a good living as a freelancer.
On the plus side, you're the boss:
You choose your own hours (and days).
You live wherever you want.
You are free to let your artistic vision soar.
But you're also responsible for:
Health insurance
Filing your taxes every three months
Turning in your material on time.
Fail to do that last one and you're out the door...
Tweet