Make Sense of Credit-Card Laws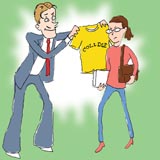 Free T-shirt? Not really!


One afternoon during my freshman year of college, I was walking to my dorm after class and two guys asked if I wanted a free T-shirt. The shirt had the word "College" written across the chest and looked like the shirt John Belushi wears in "Animal House."
They told me the shirt was mine as soon as I filled out an application for a credit card. Luckily, I had just come from my personal finance course and knew what they were up to, so I kept walking.
Free! Or not...
This was a common experience on college campuses before February, 2010. Credit card companies would set up tables in common areas and offer free stuff such as T-shirts, gift cards, and iPods, to get college students to sign up. A few weeks later, the students would receive their credit cards in the mail.
College students put these new credit cards to use. According to a 2009 Sallie Mae Study, students graduated with an average of over $4,000 in credit card debt; 82% of students with a credit card carried a balance month to month.
Consumer protection
"With this new law, consumers will have the strong and reliable protections they deserve."
--President Obama


Not only is debt a problem, but unfair credit card company practices have cost consumers a lot of money, time, and effort.
In May 2009, in an effort to protect consumers against unfair practices, President Obama signed the Credit Card Accountability, Responsibility, and Disclosure Act, commonly known as the "CARD Act," into law.
The CARD Act is meant to protect all consumers, but it will especially affect us as young adults.
The CARD Act protects young adults
The CARD Act bans unfair:
It also requires:
Plain sight and plain language disclosures
Accountability
Protections for students and young people
Although the last one is specific to students and young people, it's important for young adults to understand the protections in all parts of the act.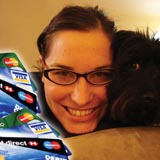 Bye bye universal default.


Protection from interest-rate increases
Under the CARD Act, if a credit card company intends to raise your interest rate, it has to give you at least 45 days' notice. The new rate can only be applied to new charges, not to the old balance. Along with the notice, the company must provide you with the option to cancel your card before the new rate goes into effect.
In addition, companies cannot increase your interest rate within the first year after you open your account.
Clearer statements
If you compare two credit card statements, one from 2008 with one from 2011, you might notice a difference.
Companies now must include information about how long it will take you to completely pay off your credit card if you only make the minimum payments. They must also tell you how much interest you will pay.
A company must also include how much you need to pay each month to pay off the balance in 36 months. It's an eye-opener.
Clearer statements also help with controlling unfair credit card fees...
Tweet