It's All Family on a Military Base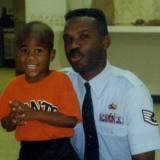 My dad and me when I was a baby.


A military brat is a son or daughter of a parent that is serving in the military.It doesn't really matter what branch it is, since they all are for the military.
I didn't really understand what it meant until I was at least 7 or 8 years old. I have been a military brat my whole life, up until when my dad retired from the Air Force after serving for more than 20 years.
Even though my dad retired, we still have benefits of the military. My dad still works on a base, but now works for the government handling military pay.
My mom worked at a credit union full time during some of my dad's time in the military, so both of my parents have worked in finance.
First stop: Florida
It all started in Florida where I was born.We were stationed there for almost eight years.
Both of my parents were born and raised in Ohio, so they had the opportunity to grow up with grandparents, aunts, uncles, and cousins.
As for me, the military became my family. Since we did not live near our extended family my aunts and uncles were not "blood" relatives, but it was the family we knew.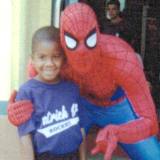 Universal Studios.
We were stationed at Patrick Air Force Base , and we lived in base housing. My parents did not have to pay rent or utilities. However, my Dad was paid less money because of the housing.
We were able to do a lot of fun things since we were about an hour away from Disney World. Every year my parents purchased annual passes to either Disney World or Universal Studios, and we went every other weekend. Sometimes we would spend the weekend at hotels near the amusement parks!
I remember on our day trips we would pack our own lunch so we did not have to buy food at the parks and could save our money.
On to Kentucky...
My second home was in Kentucky. It was my first move. The military paid for it so that wasn't money out of our family's pocket.
We were so used to going to amusement parks that I was happy to see Kentucky had a
Six Flags
.
That was probably the No. 1 theme park name for the country at that time, so it felt really good to still have that around.
My brother and I were a bit spoiled since, in Florida, we lived near the best amusement parks in the world. I remember the first time we went to Kentucky Kingdom, which is the only Six Flags in the whole state of Kentucky. I thought it was a carnival, it was so much smaller than what I was used to.
Going to amusement parks in Kentucky was also a lot cheaper than in Florida. We purchased annual passes there as well, but the cost of one adult pass to Disney World was equal to four passes for Kentucky Kingdom.
One of the advantages of being in Kentucky was that we were only a four-hour drive from my parent's home state, Ohio. We were able to see our
family
more since Ohio was one tank of gas away.
My dad had a special-duty assignment in Kentucky and we were not at a military base. We lived in an apartment because there was no military housing near us, and had to pay for rent and utilities. My mom did not go back to work full time, but instead she worked part time at the school my brother and I attended.
One of the differences I noticed was we did not have our Friday pizza night every week.
We were in Kentucky for three years before we had to make yet another move...
Tweet