Take a Run on the Wild Side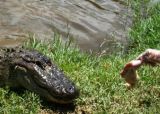 You have to be quick with clear vision!


Looking for interesting and exciting work?
Need one energetic young person, willing to learn. Outdoors environment—around water. Need to be quick with clear vision! Sprinters desired—may be required to run fast for short distances. On-the-job training provided.
Interested? In just two short months, you can move from "trainee" to "handler."
You may even graduate with honors if you are somehow able to keep all of your fingers, toes, and other assorted body parts!
Come take a run on the wild side!

This job requires real-world experience!


If this sounds like a job you would consider, there's something you should know before you start—we're talking about a job handling alligators!

It can be dangerous, but if you will listen and learn, you can find ways to minimize the danger.
You can't eliminate the danger, since you are working in the natural habitat of the alligator, but, if you do it right, the alligators don't mind your visit too much! They may even take a liking to you!
Shawn is a trainer/handler at the Gulf Coast Gator Ranch. He has worked and trained at other gator farms and tourist attractions that feature gators. So, what exactly does he do?
Part of Shawn's daily job is to walk the perimeter of the ranch and make sure the fencing is secure, account for all of the alligators, check on each gator, guide tours, and drive the airboat through the swamp.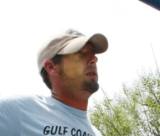 Really want to study herpetology?


You won't learn this job in a classroom, from a book, or even from a video. It has to be handed down from someone with real-life experience and a lot of knowledge. Alligator trainers and handlers come from varied backgrounds and education.
Shawn's tips

If you truly want to work with alligators, here are some tips from Shawn, the trainer at Gulf Coast Gator Ranch in Moss Point, Miss.:
Tweet