Katrina: The Storm Still Rages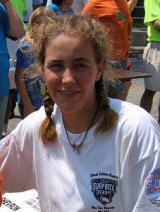 This photo was taken before Katrina. Watch my video to see what we're doing today.
—Elizabeth Beatty


It's been more than a year since I've slept in my own bed. We don't have a house anymore. Eleven months ago, I turned 16, but we didn't have a party.
Nine months ago I got my driver's license, but I don't have a car to drive.
It sounds like we are a poor, homeless family, and in some ways that may be true. But before Monday, August 29, 2005, our home was located on the beautiful Mississippi Gulf Coast.
Katrina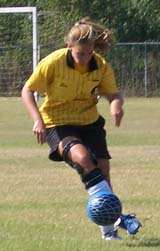 Focus on tryouts.


The last weekend of August, 2005 was supposed to be an exciting time for me. School was going great and we had an awesome new soccer coach.
I had just been cleared by the orthopedic surgeon who performed my knee reconstruction and was finally able to return to the soccer field. That weekend, mom and I were getting ready to go to the Mississippi Olympic Development Program (ODP) team's state tryouts, 200 miles north (away from the Gulf coast) in Jackson, Mississippi.
I was focused on soccer—working out; gathering cleats, balls and water jugs and packing for the weekend. My mother kept the television on a little more than usual. Everyone was talking about the huge Category 5 hurricane in the Gulf of Mexico.
As the Katrina story grew, I felt sorry for the people in its path because it can be such a pain to load up and clean up after one of those nuisance storms.

Concentrating in goal!


The wrong kind of excitement
The drive to Jackson with my mother was a three-hour drive north. I had carefully packed all of my soccer gear and was pumped up about the opportunity to play soccer with the best players from Mississippi.
The weather was incredibly hot. Even in the city of Jackson the winds were noticeably picking up. All of the adults traveling with us for the tryouts were buzzing about it hitting the coast.
By Monday morning we knew our home was in Katrina's direct path. To make things worse, we were in the northeast quadrant of the storm where the winds are the strongest.
We were able to keep up with the news until the television station (in Biloxi) that we were watching was blown away. After that we lost our power, so even though the national channels were covering it, we still couldn't get the news.
Trees were blowing down taking power and phone lines with them. Our cell phones weren't working because too many towers were down.
The last thing we heard from home was that one of our neighbors had to be evacuated from their flooded home.
Devastating news trickled in from New Orleans, Bay St. Louis, Gulfport and Biloxi. No one seemed to know anything about Moss Point or Jackson County. Was it there? How bad is it? We tried to sleep that night but we had a million questions and not one single answer.


Tweet