Rock With Babies
They want you to succeed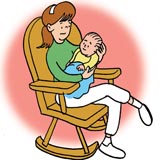 Investors can help you get prepared for babysitting.
Investors are the people who put their resources (time, money, or advice) into another person's business because they want to share in its success.
Who will be your investors? Maybe your parents will help pay for a first-aid class. Perhaps your older cousin has been babysitting for years and can tell you how to deal with roaring tantrums coming from the toddlers.
Whoever your investors are, use them as resources to help you succeed. They may even have some great suggestions for you and your business!
In the babysitting business—just like in any business—the more you do, the better you'll become.
Before you care for tiny babies or energetic toddlers, prepare. Learn how to change a diaper, feed an infant, and cook food for young children.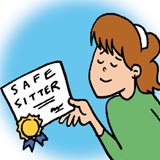 How do I become a certified babysitter?
Prepare—and then practice
Make sure that you know what you would do in an emergency. That's why taking a babysitting or first-aid class is a must. Once you finish the class and are certified as a "safe sitter," start
practicing
your new skills.
Families are more likely to hire you if you're confident about your abilities. Besides, the more you practice, the more you'll be ready for any problem that might occur!
The more experience you have, the more you should charge...
Tweet