Create Your Spending Game Plan
Divvy up the money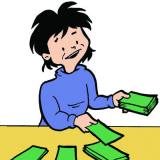 Can you save 50% of all money you receive?
List all your sources of income each month—for example, allowance, part-time jobs, extra chores—and the money you earn from each. Total your monthly earnings.
List all your expense items each month, both things you have to spend on (for example, bus fare) and things you want to spend on (for example, snack, movies, gifts). Total your monthly expenses.
The difference between what you earn each month and what you spend is the money you can save.
Set it aside in your credit union savings account for your short-term, medium-term, and long-term goals. Spread this money around the three columns.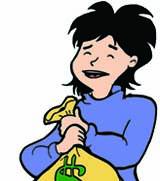 Check out Sadie's spending goals.
Refine your goals
If you don't have enough to meet all of your goals, ask yourself:
Which are most important to you?


Which short-term goals can become medium-term goals, and which medium-term goals can become long-term goals?


How can you earn more money?


Which things that you want to spend money on can you give up for a while so that you can save more money for your goals?
Chances are you'll have to adjust your spending plan. Even then, you probably won't have enough money for everything you want.
If your plan's not working, change it until it does.
Just don't give up. Winning quarterbacks don't, and neither should you.

True or False: President Jackson was well known for favoring rich people who lived in big cities. Click Andrew's head for the answer.
FALSE: Farmers, artists and people who ran their own small businesses liked him a lot. The rich and famous didn't trust him.
Tweet