The Nitty Gritty on Healthy Eating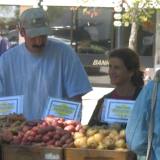 Rob works with nature.
Farmer Rob owns an organic farm in Stoughton, Wis. He produces organic vegetables for local farmers' markets and sells it to restaurants.
The restaurants value his products, and pay more for organic vegetables than they would for conventionally grown veggies.
"I'm just trying to work with nature in a way that doesn't interfere with natural processes," Rob says.
He adds, "We don't even really know the long-term effects [of using chemicals] on the land and on the people who eat the food that grows on it."
"It's like a dangerous human experiment. For me, it's just not worth it to take the chemical shortcuts," he says.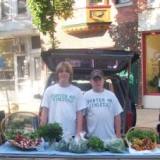 The food just tastes better.
Rob also sells his produce directly to local families by offering seasonal shares.
A seasonal share is when a family pays for a box of mixed vegetables every week from May until October.
Which of these statements are true about organic food?
It is more nutritious
It has less negative health effects
It is more expensive
All of the above
Organic food can often cost more than conventional food, so the shares can be expensive for some families. But many health insurance companies offer subsidies every season to individuals and families that join a CSA. Many growers also allow some families to work for their food.
Grow your own
Organic food: is it worth the money?
Ask most kids in urban areas how their food is grown and how it gets to them, and you may be surprised to hear them say, "From the store."
Organic food advocates believe that connecting with the land and with others in our communities is as important to our well-being as organic food is to our bodies.
Because of the popularity of organic food, many teenagers are learning how to grow their own. They're willing to spend more on organic foods because they believe it will help keep them healthier.
Public school programs around the country are helping them stay motivated. They're giving kids healthier choices in the cafeteria and in vending machines, and teaching them about healthy eating.
In Berkeley, Calif, Martin Luther King Junior Middle School students are participating in a program called The Edible Schoolyard.
Students learn about growing, harvesting and preparing nutritious, organic, and seasonal produce in a one-acre garden and kitchen classroom. The edible schoolyard idea is growing. You can show your teachers and parents the website to learn about how your school can do it too!

True or False: Andrew Jackson's pet parrot wasn't allowed to attend Jackson's funeral. Click Andrew's head for the answer.
TRUE: People couldn't keep the parrot from swearing.
Tweet