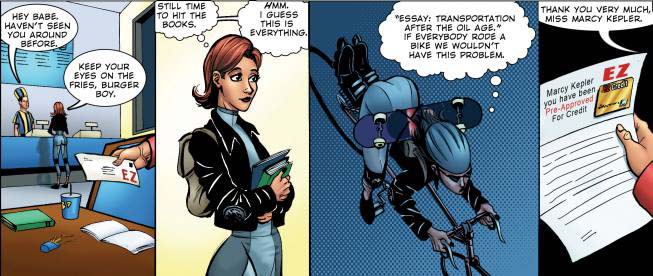 "While the message was good I feel like the comic strip was too long. If it was shorter, more people would read it and more people would see the message. I recommend for next time a more to the point strip. "
chrislogar, 14, Blandon, PA
03/21/15
"Your everyday comic strip, the comic is very lackluster and very hard to read. I can think think of other more impressive comic strips that are updated daily. Individual slides don't bring any information at all, and art work makes characters look unoriginal and cliche. Although i know the message its supposed to teach the reader, i still don't see how it's relevant to the topic at all."
Ivan.gwk, 17, tampa, fl
03/07/15
"The story was intense, and made me want to keep reading one.Not sure all the words were correctly used."
Fia A, 16, LYNNWOOD, WA
02/27/15
"This comic, though it is thoroughly entertaining, I also found it a bit confusing. Very cool way of showing information though!"
wilsoncarlie, 14, Grayling, MI
02/23/15
"The comic was entertaining for an informational comic. Although it was too long it could have been condensed down to the main points."
Katie Stump, 16, Parma, MI
02/23/15
"The comic was a little too long to hold my interest. It could have been condensed to maintain the common teen's interest. It was also not what I was expecting from a comic. Teens tend to like funny comics. I understand that the topic is serious, but it needs to be delivered in a more entertaining and relatable way. "
Alexis R., 16, Chester, NH
02/15/15