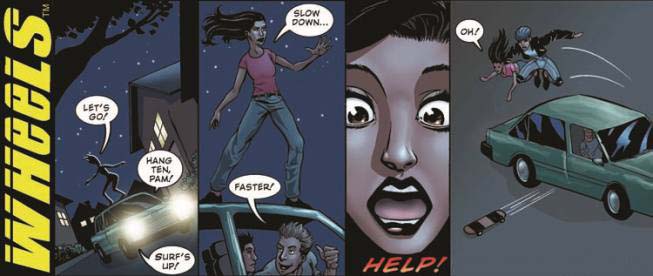 "In all honesty, I was not impressed with these comic strips. The individual strips do not seem to have a cohesive message, and the characters are difficult to understand, and hard to differentiate from one another, partly due to the artwork. The characters that aren't bullies are victims of bullies, which isn't much variety. I do not like the comic strip in its current form, but there is room for improvement."
Emille , 16, Irvine, CA
03/21/14
"I love this comic strip. The girl on the bike saw someone get hit and saving the dog has made her feel guilty. She feel as though if she can save a dog she could of saved her friend Rickie."
, 13, , MD
03/21/14
"This comic seemed pretty clear in its message. A girl saved a dog from getting hit by a drunk driver, but it brings back he feeling of guilt that her friend Rickie died. She feels like its her fault and it hurts her that she didn't have the chance to save Rickie, but she could easily save the dog. The message being shown is how dangerous drunk driving is and how it truly affects everyone. It's shown that drunk driving is a serious problem that we must stop before more lives are taken. "
M_iM_i, 16, Hyattsville, MD
03/21/14
"This comic was pretty well drawn. I feel like the overall message was lost as the comic evolved. I also feel like Marcy dying in the end tied into the message, but there could have been another solution due to her death being sort of random and it is hard to relate it back to the overall theme. But overall, I loved the comic strip! It was illustrated and written well! I wish there was more!"
SWheeler, 16, Washington, DC
03/20/14
"While I was confused a bit towards the end ,I Love the little meanings in each comic.Beautiful art."
Icyloveleo, 14, Rowlett, Tx
03/20/14
"To be honest, the comic strip is confusing and it took me a while to see what it's about. But it seems like it's about how drunk driving is dangerous,and only affects people in a negative way. Akua, 16, Bronx, NY"
A.D., 16, Bronx, NY
03/20/14
"Well, the beginning and throughout I understood completely about how your identity can be stolen if you give out your information. But, when I got to the last slide I got a completely different lesson and didn't understand how the last comic strip tied into the rest of the story."
KianaR, 13, Chesterfield , Va
03/20/14
"This comic is very deep in its sudden turn in meaning, going from a heroic act to a theme of regret at a hair turn! "
Kerryryan, 16, Howard beach, NY
03/20/14
"Really great comic strip! Amazing artwork and a great message. Keep up the good work!"
Rbowman, 14, RIVERDALE, MD
03/20/14
"I understood the comic the whole way through. I've read the comments and you all are confused about the end. I understand it, if you put two and two together you can visualize that the little girl is Marcy, and that she wasn't able to save her friend from another drunk driver I guess. So when she saved the dog, that memory came up. I love the meanings behind the story and how drunk driving is dangerous. This comic is amazing and I will definitely recommend this to anyone. "
ChristineS., 14, Fort Washington, MD
03/19/14
"The storyline is a little confusing but I can understand a good portion of it and the cartoon drawings are well done. I really hope they continue with the comic and I really want to see how it will all play out!"
HaydenHolmes, 13, Traverse City, MI
03/19/14
"At the end, the person dying really doesn't tie in with anything. Overall, I think this was a good comic strip. Although, if I would've learned a lesson from this, it wouldn't been not to make someone mad. I don't think that's what the author was trying to get across."
bcaitlin7, 13, Harbor Beach, MI
03/18/14
"I did not quite understand how these strips connect to make one story but I did catch of few of its subjects. I think some of the topics that came up in the comic were bankruptcy, drinking and driving, and applying for scholarships"
tyla_p, 15, Washington, DC
03/17/14
"I really enjoy the artwork, the plot however am still trying to fully understand. I think that once I do understand it the comics will get better."
ERodriguez, 16, New York, NY
03/16/14
"This is really awesome! I like how it isn't only entertaining but also personal and intimate. It brings out a new face in comic stripping and shows that it could undoubtedly have a deeper meaning rather than just be entertaining or funny."
Ahiranis , 14, New York, NY
03/15/14
"This cartoon teaches some really good life lessons. First it shows compassion because the girl saved the dog. Also, the driver in the car was drinking beer, showing the dangers of drunk driving. Lastly, it shows how you can use things in your past, good or bad, to make a difference in the present. I really enjoyed this!"
maddyhertel, 13, Traverse City, Mi
03/15/14
"I think that this comic strip was very inspirational. Here is a girl that risked her life for a dog she doesn't even own. She is a very brave and helpful human being that cares for the wellbeing of others. I believe she's a hero."
Jeffrey C, 16, Elmhurst, NY
03/14/14
"I liked how she saved the dog. Sometimes the hardest things to do is remember and accept what happened. You can't always dwell in the past. You have to ive in the present.She put her life on the life to save the dog. It takes real courage and will power to help or save something/somebody you don't even know. If only there we're more people like her in the world."
matthewnunez, 16, Astoria, NY
03/13/14
"This comic showed me how easy someone you know could steal your identity. What shocks me was this was just a boy that every old person knew and he stole their credit cards. "
Abby, 16, Hinckley, Mn
03/11/14
"This comic really highlights how easy identity theft is, and how come it is. You can have your identity stolen just by trusting someone too much. It highlights that people need to take serious steps in securing their identity from theft."
Shaun78, 16, New York, NY
03/10/14
"i enjoyed reading this because people really do steal peoples identities and you now see how easy and accessible it can be for these criminals to do so, because they just pick on helpless senior citizens."
whitney339, 16, washington, dc
03/08/14
"I learned from this how easy an identity can be stolen by trusting your friends too much. I learned to trust only your parents and possibly family relatives and if you are going to give the bank personal information online, it would be more safe and secure in person and actually going to the bank. You never know who or what is out there and how much they can take advantage of your money."
Colbster101, 13, Los Alamitos, CA
03/07/14
"I really enjoyed reading this! Even though it was just a story it's very realistic. This could happen to anyone. It's actually a very scary thing. It just shows you how careful you need to be."
Lena36, 15, Ashtabula, OH
03/01/14
"Wow! I never thought about how easy it would be to get my identity stolen. I guess that later in life I am going to need to take lots of precautions to protect my identity. This also shows me that anyone can steal my identity even people that I assume to be honest people."
Jack11, 13, Sea Cliff, NY
02/25/14
"Marcy's kinda hard on her mom but I think she does a good job of showing how much she cares. "
Kimari95, 17, Denver, CO
05/28/13
"Wow that was a shocker, I did not think her mom would showup. i wounder what is going to happen next! this is going to be good "
red5484, 14, tulsa, ok
04/07/13
"It takes a while to understand, but the message that one takes away from it is actually quite good."
rkeith34, 16, Cary, IL
03/21/13
"They are kind of confusing at first. But once you start reading through it they start making sense. Other than that they are pretty good."
amanda, 14, Wichita, KS
03/21/13
"These comics start off a bit confusing but once you grasp the concept they display worthy lessons and guidelines on the "do's" and "don'ts" involving money. Plus, the artwork grabs your attention for sure!"
Devon, 17, Fox Lake, IL
03/07/13
"I am unable to view the comic after page 9, but it was good and caught my interest."
glemmon, 15, Landover, MD
03/04/13
"i think its important to leave important information out because with that information bad people can do bad things with it."
Cliffy, 14, RICHLAND HILLS, TX
03/03/13
"This was very interesting, although I'm not exactly sure I understood it correctly. I enjoyed it though. Were these drawn? Good artwork and creativity!"
dennie, 15, Lemont, IL
03/01/13
"Everything made sense until the last picture. That's where got confused, but I still enjoyed it."
NarwhalNick, 13, Sutter, CA
02/09/13
"This taught a valuable lesson, and showed a common mistake of most people with their money. The comic was very easy way to learn about this too, because someday I will have to make a decision like this."
TheAlex50, 14, Vienna, WV
03/22/12
"Car salesmen can be fast talkers. When making a large purchase you should always do your reseach. If a sales person says you do not have time to get a mechanic to look at a car, it is time to move to another car dealership. Unfortunately, there are people out there who would love to take your money!"
Jenni, 14, Norfolk, VA
03/20/12
"I like what the accountant said about being careful about what you are going to buy before you actually get it. especially if its something big like a car."
Cecily Jane, 13, Austin, Tx
02/20/12
"I like these comics. My younger sisters and brother was reading the comics as well, they like them too. -Nakkita"
NB, 16, Gulfport, MS
02/18/12
"I like the dad, he kind of reminds me of my own. Good comic for teens to read and could possibly relate to some."
TheBoss37, 16, Sonoita, AZ
02/12/12
"This is a really good comic strip for teens who have parents who drink. It shows that drinking is NOT good, and it can cause a lot of problems."
bendres97, 14, Plainfield, Il
01/23/12
""Really great comic strip! Very enjoyable!" Dannielle95, 16, Dayton, VA 01/20/12"
Dannielle95, 16, Dayton, VA
01/20/12
"This comic shows that you should help those in need, you never know who they might be!"
AliciaStormy, 14, Georgetown, TX
12/15/11
"My mom tells me all the time to never leave important information like that out and now i really understand why."
briCav_, 17, florissant, mo
06/15/11