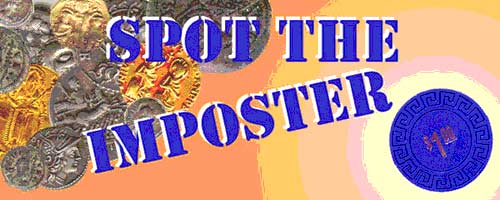 Coins have been around for a long time. Nobody knows exactly when the first coins were made, but we know that the Egyptians used precious metals ­ gold, silver, and copper ­ to pay for goods and services as early as 2500 B.C.
By 700 B.C., the kingdom of Lydia was minting coins made of gold and silver.
Below are nine groups of coins dating from around 540 B.C. through the sixteenth century. Pretty neat, huh?
Hey! Wait a second -- some wise guy has added a fake coin into each group.
Can you identify the phony?
In each of the sets that follow, click on the letter to see if you are correct. Answers are included with each set.