Advice from the Real World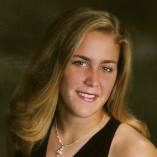 Senior Year Archive
NAME: Liz
ABOUT ME: I'm a freshman at Mississippi College, where I play "keeper" for the Lady Choctaws soccer team. I'm there on a presidential scholarship and am majoring in Biology with plans to become a pharmacist. I've lived all of my life on the Mississippi Gulf Coast and am looking forward to college life!


Confidence is Key
August 10th, 2009 at 10:08 pm
Are you a leader or a follower, or maybe a little of both? This summer, when I was around middle school and high school students, I noticed that self-confidence, or lack of it, really makes a huge difference. The confident ones are more out-going and get noticed more.
They get "chosen" for more things, and all of this helps them become even more confident. The cycle continues and grows. But those quiet, not-so-confident kids in the back are feeling less confident and are getting noticed less often…..and this cycle continues to spin, too.
So I started reading articles and web pages about self confidence. Are you born with it? Do you learn it? What exactly is it? And can you do anything about it?
I found a lot of great quotes about self-confidence, but the one that means the most to me is one my mom has said to me for years – "No one can make you feel inferior without your consent" by Eleanor Roosevelt.
This is so true! No one else can make you feel bad unless you let it in! No one else has power over you unless you give it to them! So take charge of yourself and start enjoying life a little more!
It seems like what I read over and over was sort of the "fake it till you make it" idea. Several sources suggest that if you act confidently, even if you don't feel it inside, that you will eventually become a confident person.
So how do you "act" confident?
Look it!
• Smile
• Use lots and lots of eye contact (eyes are NOT on the ground)
• Stand up straight (yeah, I know – I have heard it a million times, too!)
Get involved!
• Join something – do something! The more involved with other people you become, the more chances you have to "act"! Play a sport, join a club, volunteer …. It doesn't matter what – just do something involving others instead of staying home! Find something that you enjoy!
Be positive!
• Think positively! (I can do it. I will do it. I can win this……)
• Surround yourself with positive (happy) people. (Get rid of the whiny negative downers!)
• Keep your strengths in your mind; work on your weaknesses, but don't focus on them too much.
Talk!
• Yes, that is right – TALK to people! Ask questions – remember to smile and use that eye contact and communicate!
• If asked a question, always try to answer it with 2 – 3 points. (Example: Why do you play soccer? I love to play soccer! It is a lot of fun, and I have made friends from all over the place, and all of the practice really keeps me in shape.)
Practice your act! The more you act confident, the more confident you will become! And before you know it, you will be the one noticed, leading, and getting what you want!
Without realizing what I was doing, I did some of this when I was in high school. I practiced and prepared for interviews, and planned what I was going to do in certain situations. Trust me, it works! I am still a pretty shy person, but I have the confidence to walk in and talk to anyone now, and it really makes me feel better to be able to do it!
Tell me how you built your confidence. Do you have some great tips that have really helped?
«
Want A Re-Do?
CHANGE!
»
ADD TO MY FAVORITES
E-MAIL THIS BLOG
PRINT THIS BLOG