DIY Room Decorations
Do you ever want to buy something to decorate your room but it's just too much money to afford?
Well, let me show you how to make two room decorations that are easy and inexpensive...and that you could buy in a store or online for a lot more money!
Hanging tassels
You'll need: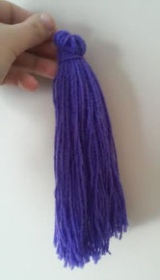 Here is one of my finished tassels.


Instructions
Gather your supplies.
Wrap the yarn around an object—such as a cup—until the tassel is the desired length and thickness.
Tie off and cut through the loops on the opposite side.
Attach the fishing line to the branch and stagger the tassels on the fishing line to look like a V shape.
Add ribbon or yarn around the branch for decoration and to hang on the wall.
Put a pin or nail in the wall and hang up your new decoration.
I had all of the materials to make this project so it didn't cost me anything.
The
decoration that inspired me
to make my own version is blue, and is $72.00 on Etsy. The purple one below is my own version.
The Etsy version is about a foot wide—mine is about three.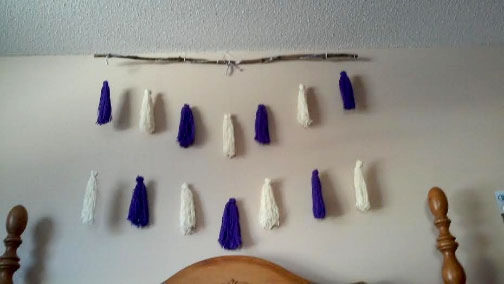 My version looks better than the Etsy version would look hanging above my queen-size bed.
Tweet