Hit the Road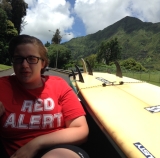 Three hours, 90 degrees...


...And No Air Conditioning!
My brother, my parents, my dog, and I were on our way back to Chicago from Indiana, which was only a three-hour drive.
That doesn't sound too bad, but it was 90 degrees outside and the car had no air conditioning!
We pulled through and laugh about it now. My parents were prepared for the expenses but not the weather.
Take in the colors
One of my favorite vacations was a summer with my cousins in Hawaii. My mom and I took a road trip to a beach about an hour away. Most of the time we were driving the sky was cloudy and raindrops covered the windshield.
But when we could see them, vibrant grassy mountains made the trip exciting because the colors were so beautiful. The whole hour we were driving my mom and I couldn't wrap our heads around the fact that we were driving to a beach that had turtles!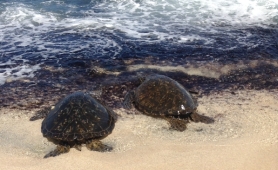 True or False: Benjamin Franklin made most of his money from his inventions. Click Ben's head for the answer.
FALSE: He never made anything from his inventions, instead he gave them to the world freely.
Tweet