Hit the Road
"Boredom always precedes a period of great creativity."—Robert Pirsig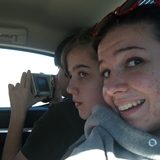 Owen's games rock the car.


Road Trips are all about what you make of them. Whether you want to read, play on your phone, listen to music, or spend time with others, there's always plenty to do.
When I go on road trips I bring my notebook to write in or a good book to read. I normally don't pay attention to my surroundings until I am out of my hometown and the scenery is different.
What if you're driving by yourself? That won't stop the fun! Enjoy the
beautiful landscape
surrounding the road. Ahead of the trip, make a CD/ playlist or buy an
audio book
.
How do you plan a road trip and the costs?
When it comes to money and vacations many people think of having to pay with credit cards and running out of money. Instead, think about planning ahead, splitting paychecks, and saving.
Connor's advice for his road trip to Florid


Not only do you need to save money but you have to
plan
the trips and route. Road trips are about memories so it is essential to map a route including photogenic state parks and historical spots.
Tweet