What's So Great About Credit Unions?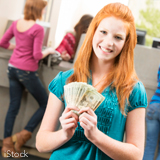 Credit unions are people helping people.


Colby: What have you learned?
Mom: A company can be in business for the right reasons. A company can remain profitable while helping people.
Personally, I learned how to be a better writer while working at a credit union. I also learned that I was better at solving problems than I was at processing transactions.
Colby: How have your positions changed?
Mom: My first job was a teller. My second was a marketing assistant and then I was an account executive and business development officer. I am currently a marketing specialist.
As a teller, I processed members' transactions. As a marketing assistant, I wrote the employee newsletter-my first writing assignment.
When I was an account executive, I worked with the Walt Disney Company's executives to help manage their accounts.
As a business development officer, I promoted the credit union with the different business units such as Disney Channel or animation.
As the marketing specialist, I do a lot of writing, including newsletters, social media, and email campaigns. I also manage events like the car sale and the annual meeting.
Colby: What's your advice for students my age?
Mom: Credit unions are a great place to work for high school and college students. Since it's a professional workplace, you'll learn the basics of interacting in an office environment.
You will learn how to dress professionally, practice proper email etiquette, and often be given projects to manage. These are all great skills you can take with you in your career.

True or False: Four other people besides Franklin helped write the Declaration of Independence. Click Ben's head for the answer.
TRUE: A committee consisting of Thomas Jefferson, John Adams, Benjamin Franklin, Robert R. Livingston, and Roger Sherman was organized to write the Declaration of Independence.
Tweet