What's So Great About Credit Unions?
What's life like when your mom works at a credit union? When I was a Cub Scout, I toured a credit union branch and got to go behind a vault to see what it is like—I was able to hold a bag of money!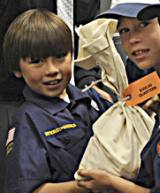 When I was a Cub Scout, I got to hold a bag of money!
I also helped my mom by choosing out the kid themes for kid banking at her credit union and attended many events with her.
I had credit union experiences that most people are not able to have. With all these credit union interactions, I want to share with you what I learned from my mom—in the form of an interview.
Colby: Why did you choose to work at a credit union?
Mom: My first job as a teller was at a bank. I didn't even know what a credit union was. I wasn't happy at the bank as a college student.
My dad found an opportunity for me at Rockwell Federal Credit Union, and I quickly learned the difference:
Banks are for profit and are more concerned with their stock holders.
Credit unions are not for profit
Credit unions invest their earnings and give it back to the members in the form of higher dividends and lower rates.
Then I knew I was working in the right industry. Credit union members each own a share of the credit union and have
voting privileges
.
Colby: What is it like to work for a credit union?
Mom: Credit unions have positive work environments. They tend to be conservative workplaces with a professional dress code. Most are small- to mid-sized companies, so it is easy to have a working relationship with all levels of employees from tellers to the executive team.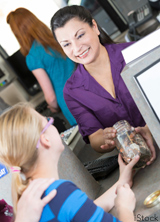 Credit union people love their jobs.


It's not unusual to have a conversation with a teller at lunch and another conversation with an executive team member later in the day.
Colby: How long have you been there?
Mom:
The first credit union I worked for was Rockwell Federal Credit Union, which is now Financial Partners Credit Union.
My second one was Vista Federal Credit Union which is now Partners Federal Credit Union. Similar names—different credit unions.
I currently work at NuVision Federal Credit Union. I have worked 17 years at financial institutions, 15 years at credit unions overall, and almost 8 years at NuVision...
Tweet