Navigate High-School Expenses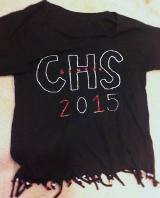 Save a lot of money by making your own spirit wear.


Extracurricular costs
Outside of school, even more expenses stack up:
Restaurants: $10+ for a good meal
Movies: $11 for a ticket (What?!) plus snacks
Dates: Free (if your date is nice) to $50+ (if you're the one being nice)
Shopping trips: $0 (window shopping) to $100+ (Can you say "impulse buy"?)
Sports and fitness: Most gyms offer memberships in the area of $10-$30 a month.
Clubs: Club sports, volunteer organizations, anything else that you like to do to spend your time, can get pricey (hundreds of dollars a month, depending on what you do).
How to manage these expenses
First, if you haven't already, start by opening a savings account at your credit union. This can give you a place to stash your cash, as well as getting monthly statements to remind you of your balance and motivate you to keep saving.
Checking/debit accounts are very helpful as well—make sure you use a register to track your money as you spend it, or monitor your accounts online.
Second, reduce the costs. Here are a few examples:
Always have your student ID with you. School events as well as many restaurants and other businesses give discounts for students.
Instead of buying new t-shirts and sweatshirts to show school spirit, make your own. Customize plain T-shirts with supplies from the craft store or things you have around the house.
Have a movie night at home—use Netflix, order a movie, or watch the weekend lineup on TV—a lot of channels play great movies or shows on the weekends.
Replace eating out with making lunch or dinner at your own house. This allows for cheaper meals and the ability to tweak the recipe—you can make it healthier or add or take out ingredients without having to pay the extra dollar or two a restaurant might require.
Read more tips from the C-Note Teenage Panel...


These tips should all help you save a bundle, and make navigating high school on a budget much easier.
Help me grow this list of ideas by commenting in the Talk Back box below!

True or False: Franklin always lived in Philadelphia, Pennsylvania. Click Ben's head for the answer.
FALSE: Franklin was born in Boston, Massachusetts. When he was 17 he had an argument with his brother and ran away. He eventually settled down to live in Philadelphia.
Tweet