How to Successfully Shop on Black Friday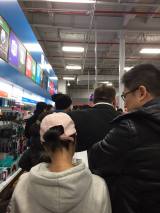 Bring a shopping buddy.


Take these precautions
Stores heavily discount items to try to bring you inside the store. They count on you buying non-discounted items in addition to the discounted ones. Take these precautions to ensure you do not fall into the stores' schemes.
Control impulse spending. Bringing a shopping buddy along is a good way to control impulse spending; he or she can make sure you do not buy something you shouldn't.

Stick to the spending limit you created—a good way to do that is to bring how much you plan to spend in cash and don't bring any credit or debit cards.
These precautions—as well as the preparations listed above—will help you spend less and still get great deals.
The Black Friday alternative
Despite the great deals, there are reasons not to shop on Black Friday:
You usually have to wait in long lines, sometimes in the cold, to get inside the store.
A lot of retailers let you shop online—from the comfort of your home—and still get great sales.
In addition, a lot of great sales happen before Thanksgiving and right after the holidays, so there are other opportunities to get fantastic deals.
You can shop at stores that have discounted prices all year round, like T.J. Maxx and Marshalls, so you don't have to wait for Black Friday.
But you really want to do it don't you?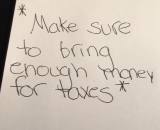 Don't forget the tax man.


Even though Black Friday can be a lot of work to plan for and all the shopping can hurt your feet, it can still be fun and save you a pretty penny.
If you go shopping with a friend, it is almost guaranteed that you will have a good time.
In addition to having an enjoyable time, you can save a lot of money. I bought a computer this past year during Black Friday and saved $150.
There are many other deals that are even better, but you have to work hard to find them. Do your research, save your money, and have fun!

True or False: Benjamin Franklin is one of the founders of one of the country's major universities, University of Pennsylvania, which he opened in 1751. Click Ben's head for the answer.
TRUE: The school opened in 1751 and was officially named the University of Pennsylvania in 1791, a year after Franklin's death.
Tweet