Budget for a Memorable Vacation
Save money when dining out.


Food
Now for one of my favorite topics: food! Eating out on trips can be expensive. Making your own meals, while more cumbersome, is usually cheaper.
When choosing your lodgings, be aware of your meal options and ask about accessibility to refrigerators, stoves, microwaves, ovens, and food shops.
If you stay with a family, help them plan meals ahead of time. Make them interesting and different from what you normally cook and eat at home.
Itinerary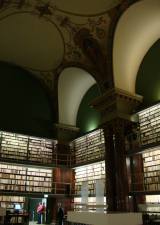 Ancient books

On my family's trip to Germany, we didn't solely visit common tourist attractions. Thanks to our host family, we were able to see some really cool and fun places that we wouldn't otherwise have known about. Most of them cost little money.
Just being with Hildegard's family and experiencing how German food, customs, and culture differ from those of America made it an awesome vacation.
For us, it was far better and cheaper than sitting on a warm Italian beach or sightseeing in Berlin—surrounded by a whole bunch of other tourists. Where does Marta suggest you stay while you're on vacation?
Research free local attractions that can be rewarding and avoid the traffic of tourists.
If your family is willing to go for a more cookie-cutter-style vacation, a guided-tour vacation or some other package deal will save you money and the stress of having to plan everything.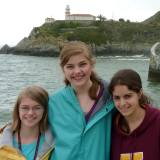 Relaxing in Spain: more ways to save


Make it the best vacation
On my family's vacation we didn't stay in a hotel, eat out every night, or visit every common German tourist attraction. Yet, we had a fantastic time!
Staying with a real German family and experiencing true German culture made our trip even better— not to mention cheaper— than the average American family's vacation to Germany.
Luckily for all of us, the best vacations are rarely the most expensive vacations, so go ahead and pinch some pennies on your vacation, whether you travel across the globe or simply to your neighboring city.

True or False: Even though he only went to school for one or two years, Franklin read many big books. Click Ben's head for the answer.
TRUE: At an early age (about 13 years old) Franklin read books such as Pilgrim's Progress, which contains over 500 pages.
Tweet