Turn Passion to Cash
How to market your business
Determine your target market—your potential customers—and how they will find your website.
A common approach is to start on social media pages like Instagram and Facebook and like or follow people. From there you can gain support group for your business.
Make business cards with your portfolio's Web address and contact information on them. Spread these cards around. Be forward but polite. You want everyone to know about your business!

To spread the word about my photography, I shot as many photo sessions as I could without charging money and asked my subjects to post them on social media, so I could get exposure from it. I always made sure to include a watermark on my photo. A watermark is like an artist's signature on a painting; it's a small typed signature somewhere on the photo that gives credit to the photographer.
I made business cards and handed them out to people I met.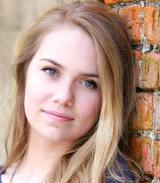 Here's a pricing tip.


Set your price
There is a fine line between underpricing your product so people do not take it seriously, to overpricing the product, so that it is out of your customers' budgets. Find the perfect medium. Look at what other businesses are charging. This is a good jumping-off point.
Calculate all of your expenses. For example, my first year, I probably had around $1,500 in expenses, including my camera, lenses, reflector, editing software, and domain name.
When setting a price, I divided my expenses by the number of shoots I predicted I would book that year: between 10 and 15. To break even, I would have charged between $100 and $150 for each shoot.
Instead of breaking even, I wanted to profit. So I bumped up my prices to $175 for the session fee and then tried to sell more prints to increase profits.
There is no right or wrong way to price your products, so long as you make enough money to sustain your business.
Business as teacher
More about Lily


I would not be who I am if I had not received my first point-and-shoot camera at 8 years old.
Running this business has not always been happy—at times I've wanted to scream and pull my hair out!
However, my photography business has given my life meaning, and that is even more rewarding than the money it brings in.

True or False: Benjamin Franklin was also known as Polly Baker, Silence Dogood, Busy Body, and Alice Addertongue. Click Ben's head for the answer.
TRUE: All of these were pen names that Franklin assumed at one time.
Tweet