Lower Your College Costs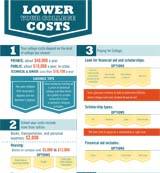 Lower Your college Costs—click to enlarge.


I'm looking at a college that would cost me almost $112,000 for five years—the length of time I predict I'll attend the university.

The amount you will pay for college will vary greatly depending on the school, how long you plan to attend, and the living situation that you choose.
Your college choices are: private universities, public universities, technical colleges, and junior colleges. The tuition for each kind of college will be different, so it is important that you research the cost of attending any of the colleges that you pick.
What are the costs?
According to The Scholarship Workshop, the basic tuition for most public colleges, not including housing, books, personal, and transportation costs, is $10,000 a year if you live in-state. An additional fee will be added if you attend as an out-of-state student—this amount varies from school to school.
Private colleges typically cost about $30,000 more than public schools a year. Junior and technical colleges tend to cost much less, but they are two-year colleges that offer associate's degrees and not bachelor's degrees. You might decide to start at a junior or technical college and then finish at a public or private university to earn a bachelor's degree or higher—doing this can help save a lot of money.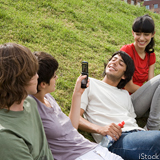 Most college students are borrowing blindly.


More than tuition

Basic tuition is just the beginning. Books, transportation, and personal expenses cost about $2,000 each year.
Housing costs for dorms on campus range between $5,000 and $12,000; meal plans can cost as much as $3,000 and usually let you choose between 10, 16, or 21 meals a week.
There are many ways you can lower your costs for college, such as choosing different housing, winning scholarships, and obtaining financial aid.
Tweet