The Major Decision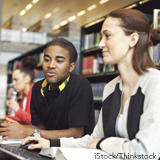 Get personal with your university library.


Do Your Homework
More often than not, college students don't declare a major until after their freshman year. This gives you some time to get familiar with the majors offered at your university.
Go on your (potential) university's website. There is almost always a link to the school's majors right off the homepage. These descriptions include all the courses you must take within a major, descriptions of those courses, the requirements to complete the major, and more.
If you'd like a deeper look into a specific major, don't be afraid to contact an adviser in the department of interest. Emailing an adviser with questions will clear up a lot of uncertainties you may have.
Better yet, schedule an appointment to meet with an adviser.
Hands-on experience

One of the best things you can do when deciding on a major is to gain some hands-on experience in a career you might be interested in. Getting some "real world" experience is very important. It shows you what potential careers are really like.
Contact a professional in a field of interest, and ask for a job shadow—a program that gives students "a day in the life" of a specific career. Usually, professionals are more than willing to let students job shadow. Hopefully they are passionate about what they do, and are very excited to hear that a student is interested in the field.
Not only does job shadowing show you the realities of a specific career, but it helps you make connections. Networking is an important part of career exploration, and making new, positive connections through a job shadow can do nothing but benefit you in the future. Leaving a good, lasting impression can lead to letters of recommendation, or possibly even a future job.
Gaining hands-on experience in a particular field will tell you a lot about if a certain major is the right fit for you.
Don't be afraid of change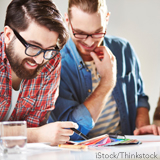 Don't be afraid to change.


No matter what major you end up declaring, don't be afraid of change! Some 50% to 70% of college students change their majors at least once. In addition, there is no reason to worry if you haven't decided on what you want to do before you enter college. There are plenty of students who go into their freshman year undecided about a major.
There are countless self-assessment tools that may help you narrow your choices for what you want to major in, including this one from Loyola University Chicago. Don't take choosing a college major lightly. After all, it is a major decision!

True or False: When he was 18, Franklin went to China to buy printing equipment. Click Ben's head for the answer.
FALSE: Franklin went to London to learn more about printing. He wanted to buy equipment so he could start his own printing business in Philadelphia.
Tweet