The Major Decision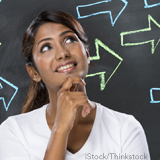 What's your major?


Confucius—an ancient Chinese philosopher—once said, "If you love what you do, you will never work a day in your life."
Unfortunately, there are many people who do not love what they do—a lot of people dread going to work every morning. In fact, most people feel that way. A recent survey showed that about 70% of people either hate their jobs, or are completely disengaged from it—that's seven out of every 10 people!
One of the first steps you can take to ensure you aren't one of these people is to pick the right college major. Picking a major that suits you is key to enjoying a successful career after college.
Gaze into the future

The goal of declaring a particular major is to prepare yourself for a specific career once you graduate. When deciding on a college major, you must do a lot of self-reflection.
Start by asking yourself:
What can I see myself doing for a career?
What am I passionate about?
Will this make me happy?
Being passionate about what you're studying will make your college experience that much more enjoyable—going to class will be fun instead of a chore.

For example, if you think you want to be a doctor, but spend your entire chemistry lecture dreaming about that economics class you can't wait to get to, take note of that. This may sound very simple, but it will help you eliminate many potential majors you might choose from.
Assessing your values is another step to take when thinking about potential careers. What is important to you?
A high-paying salary?
Helping others?
An active lifestyle?
By being honest with yourself and evaluating what's truly important to you, you should be able to gain a better idea of what will make a career rewarding for you. If you're lucky, you'll be able to find a major that combines all of these things.
Tweet