Credit Union Careers: Making Loans
There's no place like home
When you're ready to buy a home, the real estate department will be there to help you.
Real estate has support staff to help you have a smooth home-buying experience:
Real estate loan officers will work with you to complete your mortgage application and get all your paperwork in order.
Real estate loan processors make sure that your application and all the related paperwork and documents are prepared and sent to the appropriate people.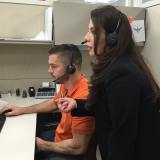 William and Ami view a loan application online.


Business time
Someday, you might want to start your own business. The business lending department will work with you to help you establish a business account and obtain a start-up loan. Staffers will walk you through setting up bill pay, help you get ready to process payments, and direct you to important small business resources.
Business lending staff also help you prepare your business plan and submit your loan application.
Other staff will review your business plan and financials to determine if it's a smart risk to lend you money.
Managing risk
When it comes to lending money, it's all about risk. Whether a member is buying a car, a home, or growing their business, the credit union must evaluate to determine if the member is going to pay back the loan.
If you fail to make payments or renegotiate your loan, your loan could be sent to the collections team.
Collections staff would work with you to help you pay back your loan. Sometimes this involves restructuring the loan with lower payments, taking partial payments, and counseling you about budgeting and paying off debt.
This is part 3 in a 3-part series on credit union careers. See related items on the right side of this page.


Working in collections requires strong communication skills, especially when having difficult conversations. It can be a tough job, but it can also be rewarding when you help a member keep her vehicle that she needs to get to work.
Enter the big world of lending
No matter what area of lending you work in, you are helping a member reach his or her goals. Whether it's buying a first home, starting a business, buying a car, or consolidating a loan, you are there every step of the way.

True or False: Benjamin Franklin, ever the ladies man, asked a woman to marry him even though he was 73-years-old. Click Ben's head for the answer.
TRUE: He was enamored with the widow of a French philosopher, Anne-Catherine de Ligniville. Unfortunately she was still in love with and devoted to her dead husband.
Tweet