Credit Union Careers: Supporting Roles
To the market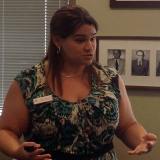 Marie is passionate about the leadership skills she teaches credit union employees.


The marketing department's goal is to introduce new people to the credit union's services.
This can be delivered in multiple ways—commercials, billboards, online advertisements, promotions, and face-to-face.
Websites, email marketing, and other digital marketing can also be handled by the marketing department.
Marketing is also responsible for ensuring there is a consistent brand and image across all areas of the credit union.
This means that when consumers walk into a branch or grab brochures at an event or even visit a website, the information they receive—including the logo, colors, wording, and more—are all consistent.
Training
When a new employee is hired, he needs to learn how to do his job, about the company, the products and services the credit union offers, and how to provide excellent member service. To do this, many credit unions have a team dedicated to training employees.
The training department develops a curriculum to train new employees, as well as inform all employees when new products, services, or procedures are established.
Some training departments also provide development training to help employees grow in their jobs. They may teach leadership and management skills or help staff members learn and prepare for other careers in the credit union.
Making sure your expenses don't exceed your income is an important part of personal finance-especially when you're an accountant...
Tweet