Credit Union Careers: Supporting Roles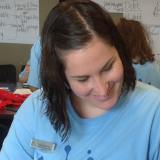 Kelsey works with youth financial campers during the summer while they go through a real life simulation.


There is so much more to a credit union than what you see when you walk through the door.
Just as you don't typically see the cooks who prepare your food at a restaurant, countless jobs exist within a credit union—even if you don't see them!
When you visit a branch to make a deposit, the teller uses a computer to look up your account, type in the deposit, and get you a receipt to confirm the money is in your account.
Many credit unions have staff who make sure the computer software and hardware is working.
Programmers also develop code to run various financial reports, code and implement specific programming alerts, and work on online banking software.
Supporting the employees
When employees have questions about their paychecks, need help with their timecards, or even have supervisor concerns, they contact the human resources team.

Juan trains branch employees to better serve credit union members.


The human resources department supports the employees who support the members. It handles:
Payroll and payroll taxes
Employee benefits
Rule compliance
Interviewing and hiring
Terminating employees
The human resources department provides employees with resources and support, while also protecting the credit union.
A marketing department is responsible for spreading the word about the credit union and the products and services it offers...
Tweet