Credit Union Careers: People Helping People
This is part 1 in a 3-part series on credit union careers. See related items on the right side of this page.


Who's in charge?
Enter the branch manager!
Branch managers and assistant branch managers are responsible for making sure the branch runs smoothly. This can include:
Ensuring there are enough employees scheduled to work
Making sure the cash drawers and the vault are in balance
Confirming that employees follow safety and compliance measures
Making sure members are not only helped quickly, but receive excellent service
Helping employees learn new skills
Challenging and motivating employees to meet or exceed goals
Community minded
Branch managers and assistant branch managers are involved in their communities. This can help them bring new business to their branch and also show support for the communities.
Managers should be good at networking, which includes meeting new people and building relationships with them.
Thanks, coach!
Branch managers are more than just managers. They are also coaches.
They help employees learn and develop new skills, they recognize and help correct behaviors, and they encourage staff members to be the best they can be.
"Press 1..."
Members don't have to stop into a branch to get help. At many credit unions, they call the credit union and talk with a contact center representative (CCR).
Contact center representatives spend their days on the phones helping members.
Not only do they have to know how to do transactions such as transferring money and taking payments, CCRs also have to know about products, services, and the various departments in the credit union.
On their toes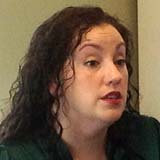 Brittney loves helping people.


The contact center is one of the most important departments in the credit union and there is no such thing as a typical day.
When a representative answers the phone, he or she doesn't know what the caller is going to need. CCRs have to be ready to listen and quickly come up with a solution or answer.
Being able to effectively communicate is one of the most important skills needed for a contact center representative. CCRs need to be able to listen and to clearly communicate with the member on the phone.
People helping people
Although I've covered only a few career opportunities in branch operations, there are many other career opportunities in credit unions.
No matter where you work in a credit union, it all comes down to serving the member.
Member service involves more than a smile and a thank you. You need to be confident in your knowledge and be able to recognize opportunities to educate and inform.
When you work at a credit union, it's all about people helping people.

True or False: Four other people besides Franklin helped write the Declaration of Independence. Click Ben's head for the answer.
TRUE: A committee consisting of Thomas Jefferson, John Adams, Benjamin Franklin, Robert R. Livingston, and Roger Sherman was organized to write the Declaration of Independence.
Tweet