Credit Union Careers: People Helping People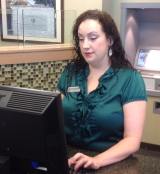 Brittany helps with in-depth transactions.


Take a closer look
A teller can look for advancement in lots of places, but a great next step is a
member service counselor
(MSC).
While a teller is responsible for helping members with basic financial transactions, MSCs work more closely with members to build strong relationships and to help them with in-depth transactions. These can include:
Opening a membership savings account
Opening a checking account
Getting a new debit card
Applying for a loan
Researching transactions on their account
Answering financial questions
Helping members access their safe deposit boxes
Taking deposits
Acting as tellers when extra help is needed
Like to listen?
MSCs must provide great member service and have good communication skills. They must be great listeners and know the credit union products and services extremely well. This helps them recommend products and services that would be beneficial to a member's financial life.
Helping members
One of the best benefits of being an MSC is the ability to help members.
Jalene G., an MSC at A+ Federal Credit Union in Austin, Texas, says, "[The best part of my job is] the people. My position allows me to interact with people from all walks of life. Their stories and the way we can help them makes every day an adventure."
A teller needs help. An MSC has a question. A member wants to speak to a supervisor...
Tweet