Credit Union Careers: People Helping People
Got skills?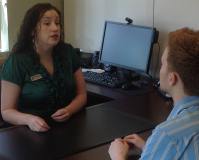 Tellers are good communicators.


Tellers primarily deal with money and members. Because of this, tellers need to have good math and counting skills while also being friendly and providing excellent member service.
They also need to be effective communicators, both oral and written, and have a good understanding of computers.
Depending on the credit union, a teller may only need a high school diploma, a GED, or the equivalent.
In balance
Tellers count large sums of money daily and need to make sure that their cash drawers are in balance.
This means that the amount of cash a teller has in his or her drawer matches what the computer software says should be there.
High school interns
Many credit unions hire high school students to work as interns during the school year and even during the summers.
When I was in high school, I worked as a part time teller for a credit union in my hometown. I learned a lot about finance and member service.
An internship or even a part-time teller position is a great way to get work experience, especially if you're interested in finance, business, or customer service.
Where does a teller look for advancement opportunities? Lots of places...
Tweet