Picking a Major? Look at it as an Investment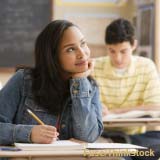 It pays to get a degree in a STEM field.


If you're looking for a college major, it pays to get a degree in science, technology, engineering or math (STEM).
A recent study by Payscale, a website that tracks earning data, ranked colleges according to how much their students made after graduation as well as by the highest-paying majors.
A graduate majoring in petroleum engineering can expect to earn $103,000 upon graduation, whereas an elementary education major typically earns $32,200 starting out, according to Payscale.
Overall, the more technical, left-brain majors tend to offer the best return on investment with actuarial mathematics, nuclear engineering, chemical engineering, and aerospace engineering rounding out the top five degrees with the highest earning potential.
Of course, you don't have to major in a science or tech field to make a living, especially if you have neither the passion nor aptitude for those fields.
When picking a major and school, keep in mind:
The income potential. With the cost of tuition continuing to rise, investigate how much you can expect to make graduating from your chosen school with the degree you're seeking, as well as the job placement rate.
The whole cost. Include the cost of transportation, room and board, food, supplies, and other fees in your calculations. You might find that a school with higher tuition but fewer associated costs is the better option. Colleges are required to have net price calculators on their websites.
That it's OK to follow your interests. Even if you're a liberal arts student, you still can increase your earning potential by attending schools that specialize in your field. The Payscale report ranked the earning potential of schools' graduates by major, too. For instance, if you want to attend a school that's graduated a lot of English majors with high-paying jobs, put George Mason and Fordham universities on your short list.

True or False: The first official US coin was the Fugio cent. Click Ben's head for the answer.
TRUE: Benjamin Franklin heavily influenced the overall design of the Fugio, first circulated in 1787. It was a copper penny similar to the 1776 Continental dollar.
Tweet