Longboard: Feel the Rush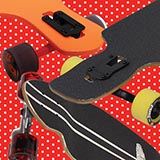 A fun way to get from point A to B


Did you know that in Hawaii when the waters were too tough to ride, surfers would sidewalk surf? This action eventually led to skateboarding and longboarding.
Skateboarding originated in Hawaii in 1959. In the 1970s, teenagers found that skateboards were too short for them—they couldn't go fast enough and didn't have enough stability. They came up with homemade versions that were longer. They called them longboards.
There are certain reasons people longboard. I enjoy riding because I like the rush I get when riding fast down a big hill. I think it's a fun way to get from point A to point B.
You put bearings in the middle of some wheels, put the wheels on the end of trucks, bolt the trucks to a board, put on the grip tape, and ride! Want to learn how?
Make the longboard
When you build your own longboard, you can pick the components you want. It might cost less than buying one ready-made.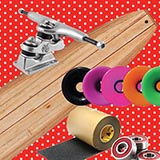 You can't build a longboard without griptape, trucks, bearings, and wheels.


Before you can longboard you will need to gather some supplies and materials. Two good places to go for supplies are Index and Zumiez. A list of things you'll need are:
The board: a piece of wood you stand on. Bamboo and oak are both good kinds of wood. Cost: $60 to $100
Grip tape: a sandpaper type of tape that lets you grip the wood. Any kind of grip tape is good, but the best kind will hurt when you run your finger across it. The rougher the better. Cost: about $10
Hardware: screws and bolts that holds the trucks to the wood. Cost: $10 to $15
Trucks: the axles and turning mechanism for the whole board. If you want to go fast, get wide ones. Cost: $25 to $60
Bearings: go inside the wheels to let them spin really fast. The best kind are ceramic. They don't rust and are really smooth. Cost: $10 to $100
Wheels: the final pieces that let the board move. The best kind are soft. They go over rocks and bumps a lot better than hard wheels do. Cost: $25 to $50
Once you have all these materials, unless you want to
do it yourself
, any local skate shop can put the board together for you...
Tweet